Somente em inglês
Tradução pendente
Esta página está disponível apenas em inglês. Estamos trabalhando ativamente para traduzir o site inteiro. Obrigado pela sua paciência.
Here's your daily devotional!
If you wish to receive these free devotionals every weekday by E-mail, click the button below. Note: you'll have to log in or create your membership account first. Membership in the League is free. Join now!
Sign up to receive the Daily Devotional
""Circumcision of the Heart""
Philippians 3:3
For it is we who are the circumcision, we who serve God by his Spirit, who boast in Christ Jesus, and who put no confidence in the flesh.
Thoughts for Today:
In order to understand the Jews' concern and demands related to circumcision, we must first understand the Old Testament requirements and how the Jews had misunderstood and misapplied a critical condition. The covenant of circumcision was given to Abraham in Genesis 17:9-14. In verse 14, the Lord said: "Any uncircumcised male, who has not been circumcised in the flesh, will be cut off from his people; he has broken my covenant." This placed a great deal of emphasis on the act of circumcision. However, in Romans 4:3-13, Paul explained that Abraham had already been justified by faith before he was circumcised. Abraham's faith had saved him (Genesis 15:6), approximately thirteen years before the Lord commanded him to be circumcised (Genesis 17:24-26). The Jews were so focused on the outward act of obedience, that they ignored the inward act of faith that caused Abraham to be obedient in the first place.

So who is the "we" of the circumcision that Paul speaks of in our passage today? He was not just speaking of the Jew who had been circumcised – Paul was saying that all Christians are the true circumcised people of God. In Romans 2:28-29, Paul wrote: "A person is not a Jew who is one only outwardly, nor is circumcision merely outward and physical. No, a person is a Jew who is one inwardly; and circumcision is circumcision of the heart, by the Spirit, not by the written code. Such a person's praise is not from other people, but from God."

The condition of a person's flesh (circumcised or not) is not important to God. It's only the condition of the spirit that matters. In the context of our passage today, Paul is saying that we should not place our confidence in outward acts (in order to save ourselves). True circumcision is of the heart and is only gained through re-birth in Christ Jesus. Our trust is placed in Christ alone!
Questions to Ponder:
In the world today, the issue is not about circumcision. Instead, I hear people say, "These acts of holiness: ______ and _______ [fill in the blanks] are absolutely critical in order to receive salvation." That is just as wrong as those in Paul's day who believed that being circumcised granted them salvation. Have you placed any outward conditions upon your salvation? Consider the meaning of God's grace and the "gift" of His Son Jesus.
Sign up to receive the Daily Devotional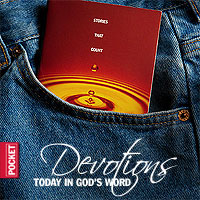 There's nothing like God's Word to create purpose in your life that lasts the entire day and beyond. We encourage you to Read, Carry and Share the Word of God. Pocket Devotions are sent by E-mail every weekday (Monday to Friday). On weekends we encourage you to be creative and study on your own in any area of Scripture where God leads you.
You can start from Day 1 at any time. Messages are sent automatically. Subscribe now! You may unsubscribe at any time.
About the author
Pocket Devotions are written by Mike Brooks. A retired businessman, he is Moderator of South Shores church, leads the Deacon Board, serves on the finance committee, and he teaches a Men's Bible study and the Men's Ministry. Mike has a passion for evangelical missions. He is the husband of Sherry; the father of Ryan, Natalie, Krissy, Rebecca, and Amanda; the father-in-law of Ariel; and the grandfather of Conner and Christian.