Somente em inglês
Tradução pendente
Esta página está disponível apenas em inglês. Estamos trabalhando ativamente para traduzir o site inteiro. Obrigado pela sua paciência.
Here's your daily devotional!
If you wish to receive these free devotionals every weekday by E-mail, click the button below. Note: you'll have to log in or create your membership account first. Membership in the League is free. Join now!
Sign up to receive the Daily Devotional
"Where to Turn When Hope is Lost"
Acts 27:16-20
As we passed to the lee of a small island called Cauda, we were hardly able to make the lifeboat secure. When the men had hoisted it aboard, they passed ropes under the ship itself to hold it together. Fearing that they would run aground on the sandbars of Syrtis, they lowered the sea anchor and let the ship be driven along. We took such a violent battering from the storm that the next day they began to throw the cargo overboard. On the third day, they threw the ship's tackle overboard with their own hands. When neither sun nor stars appeared for many days and the storm continued raging, we finally gave up all hope of being saved.
Thoughts for Today:
When I was in high school my friends and I enjoyed hiking and exploring some of the abandoned silver mines in the canyons near our home. As a parent now, I shudder to think of the risks we took back then which didn't seem so dangerous at the time. (I certainly wouldn't want my son or daughter doing what we did in the interest of adventure and fun.) On one afternoon we hiked to a rather remote area which required scaling a waterfall to reach the mine entrance. Fortunately it was summertime so there was little water flow, yet the footing was still slippery as the rocks were covered with moss and algae. Nearly two stories high, and close to the top of the waterfall I relaxed my grip for a moment and wasn't as careful with my footing. I slipped, lost my handhold as well, and began what seemed like a slow motion fall to the jagged rocks 25 feet below. I remember thinking in a detached sort of way, "Oh boy, this is going to hurt; I hope I don't get hurt too bad!" And in desperation I silently prayed, "Please God, help!!!"

Whaa-bamm I landed, with my feet and legs breaking my fall before ending up on my rear-end. I took inventory: no broken bones and I could still walk. I had survived! It wasn't as bad as I thought; just some bumps and bruises. God had saved me. In our passage today, I'll bet Paul's companions wished their ordeal had been over just as quickly. Instead, these experienced seamen were thrown about by the storm for so many days they finally gave up hope of being saved. I think we need these little and big experiences from time to time, to remind us that we are not in control of our lives; even when things appear to be going well, one slip or storm can ruin an otherwise perfect day or cruise. Understanding this helps me to keep things in the proper perspective: When things are going well, to not be too joyful or prideful; And when things turn for the worse, to not give up hope that the Lord will provide a way out no matter how bleak the future prospects may appear.
Questions to Ponder:
Isaiah 57:10,"You were wearied by all your ways, but you would not say, 'It is hopeless.' You found renewal of your strength, and so you did not faint." Isaiah is speaking about our rebellious nature -- of how instead of turning to God when we have a problem we try to solve it ourselves. However, just like the sailors in our passage today there will come a time when we have been so brutalized by an event that we finally give up hope. Or like me, as I fell to the rocks below, knowing for certain there was no possible positive outcome I could achieve with my own ability -- what would I do, to whom would I turn? When we're helpless and hopeless, the question is this: Will we then turn to God, or in stubbornness rely on our own abilities or the world's solutions?
Sign up to receive the Daily Devotional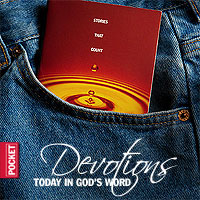 There's nothing like God's Word to create purpose in your life that lasts the entire day and beyond. We encourage you to Read, Carry and Share the Word of God. Pocket Devotions are sent by E-mail every weekday (Monday to Friday). On weekends we encourage you to be creative and study on your own in any area of Scripture where God leads you.
You can start from Day 1 at any time. Messages are sent automatically. Subscribe now! You may unsubscribe at any time.
About the author
Pocket Devotions are written by Mike Brooks. A retired businessman, he is Moderator of South Shores church, leads the Deacon Board, serves on the finance committee, and he teaches a Men's Bible study and the Men's Ministry. Mike has a passion for evangelical missions. He is the husband of Sherry; the father of Ryan, Natalie, Krissy, Rebecca, and Amanda; the father-in-law of Ariel; and the grandfather of Conner and Christian.