Somente em inglês
Tradução pendente
Esta página está disponível apenas em inglês. Estamos trabalhando ativamente para traduzir o site inteiro. Obrigado pela sua paciência.
Here's your daily devotional!
If you wish to receive these free devotionals every weekday by E-mail, click the button below. Note: you'll have to log in or create your membership account first. Membership in the League is free. Join now!
Sign up to receive the Daily Devotional
""Our Flesh: A Great Attractor of Sin""
Ephesians 2:3
All of us also lived among them at one time, gratifying the cravings of our flesh and following its desires and thoughts. Like the rest, we were by nature deserving of wrath.
Thoughts for Today:
Some Christians think that salvation is about putting an end to sin. But it is not. Mortal humanity is simply incapable of not sinning despite our best efforts. Even after we're saved. Why? Because of our sin nature.

The Encarta Dictionary defines "nature" as: "the intrinsic or essential qualities of somebody or something". In our passage today, Paul confirms what most of us should know and have experienced firsthand -- we all have a natural predisposition toward sin. And it is this sin nature that makes us commit individual acts of sin, regardless of how holy, godly and righteous we try to live. As long as we live in these earthly bodies, our flesh will continue to be a huge attractor of sin.

It is the great reason and answer to the question: Why must we be born again? Paul explains this thoroughly and succinctly in Titus 3:3-7: "At one time we too were foolish, disobedient, deceived and enslaved by all kinds of passions and pleasures. We lived in malice and envy, being hated and hating one another. But when the kindness and love of God our Savior appeared, he saved us, not because of righteous things we had done, but because of his mercy. He saved us through the washing of rebirth and renewal by the Holy Spirit, whom he poured out on us generously through Jesus Christ our Savior, so that, having been justified by his grace, we might become heirs having the hope of eternal life."

Therefore salvation is about putting an end to God's wrath and the punishment we deserve for our disobedience and rebelliousness. God's plan is for all who choose to follow Him -- to be forgiven and born again with a new spiritual nature -- which no longer is deserving of His wrath. Why? Because Jesus has already paid the price.
Questions to Ponder:
Are you struggling with sin today? Maybe and maybe not. One thing we know for certain -- there is a day is coming when we will sin, and then we will be even more grateful for the sacrifice Jesus made on Calvary.
Sign up to receive the Daily Devotional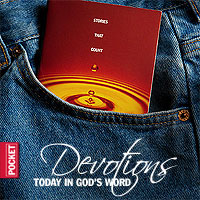 There's nothing like God's Word to create purpose in your life that lasts the entire day and beyond. We encourage you to Read, Carry and Share the Word of God. Pocket Devotions are sent by E-mail every weekday (Monday to Friday). On weekends we encourage you to be creative and study on your own in any area of Scripture where God leads you.
You can start from Day 1 at any time. Messages are sent automatically. Subscribe now! You may unsubscribe at any time.
About the author
Pocket Devotions are written by Mike Brooks. A retired businessman, he is Moderator of South Shores church, leads the Deacon Board, serves on the finance committee, and he teaches a Men's Bible study and the Men's Ministry. Mike has a passion for evangelical missions. He is the husband of Sherry; the father of Ryan, Natalie, Krissy, Rebecca, and Amanda; the father-in-law of Ariel; and the grandfather of Conner and Christian.